Remembering A Music Critic Turned Music-Maker
Naturally, I favor critics who can actually excel in the field in which they criticize. Such is the case of the late Jerry Wexler, a former music journalist who went from covering music to making music. Wexler didn't play sax or piano; he didn't play drums or guitar; but he made music still the same.
As a co-owner of Atlantic Records (before the big conglomerate sell-off), Jerry Wexler didn't just peruse financial statements like many of today's label execs; on the contrary, he participated wholeheartedly in the music process. During his tenure at Atlantic records, Wexler (along with partner and Atlantic Records founder Ahmet Ertegun), signed and produced a wide range of recording acts, including most influential to me, Aretha Franklin and Led Zeppelin. Though he's probably most well-known for his work with Aretha Franklin (he produced 14 hit albums for her between 1967 and 1975), and Ray Charles, there are two other contributions that Jerry Wexler made that are equally if not even more impressive.
A little-known bit of trivia is the fact that it was Jerry Wexler who coined the term "Rhythm & Blues" (R&B). Before this, this deeply rich, inviting blues-based music was commonly known as "Race Records." Wexler's coinage helped project a level of dignity over an important lesser known black music, in a time steep with racism and cultural oppression. Another little-known fact is Jerry Wexler's involvement with seminal soul recording label Stax Records, the nurturing home of the likes of Otis Redding, Isaac Hayes, Al Bell, and Booker T. & the M.G.s. More specifically, Jerry Wexler played a pivotal role in the development of one of the best soul rhythm sections of all time, the Muscle Shoals rhythm section.

Jerry Wexler and Wilson Pickett

Aretha Franklin and Jerry Wexler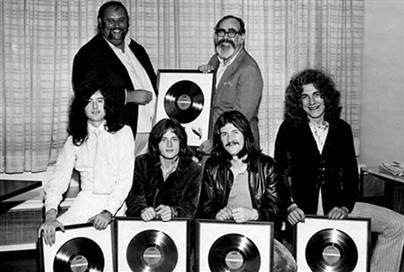 Led Zeppelin and Jerry Wexler

Jerry Wexler
Articles
,
Beatmaking
,
BeatTips Editorial
,
BeatTips Jewel Droppin'
,
BeatTips MusicStudy
,
Big Influence
,
Marquee Names
,
Music Business
,
Music Education
,
MusicStudy