New Music by Gorillaz feat. Bobby Womack & Mos Def Serves Up Yesterday Feel; 1980s Style Synth Construction Strikes Warm Chord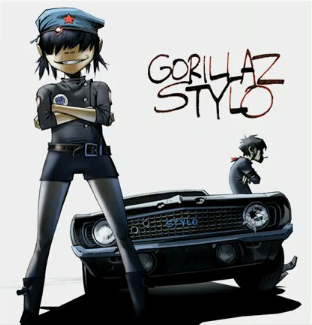 I have always admired the work of Gorillaz. And if "Stylo" is any indication, my admiration for the Gorillaz' musical creativity will likely continue.
"Stylo," the first officially released single off of the forthcoming Gorillaz album, Plastic Beach, is a jaunt down the 1980s synth lane. The core groove takes up two bars. It's dominated by a syncopated, four-note synth arrangement (can't tell if it's a sound module or VST…and that's a good thing) that bounces and struts for three consecutive measures, then "walks out" chromatically, before the collective phrases (all four measures, in sequence) loop over and repeat. As for changes, there's the long chromatic synth passage that reminds me of the 80s band, Flock of Seagulls. Also, various sound effects round out the assortment of changes that are intertwined with and added to the core groove.
The drums on "Stylo" are basic; there's not much going on in the drum framework, except for the syncopation found in the hi-hat hits and the occasional brushed snare hits. I suspect that Damon Albarn (the likely producer of this track) didn't want to rough up the well-defined landscape of the synth arrangement. Still, pedestrian drum framework aside, I did like the sonic pallet of the drum sounds that he chose.
The kick drum is barely noticeable, but it does its job as the anchor of the rhythm. The hi-hat, light and choppy, peppers the beat in the most unassuming manner. Finally, the snare—the most audible of all the drum sounds on "Stylo," as is often the case on most beats—is a straight-forward, electronic "rock" snare. Dope thing about the use of such a typical snare sound is that it always allows for the most effective mix. Here, the snare is allowed to breathe; it's not squashed and smothered by over compression, and the reverb sounds like its right in line with the snare sound, pre mix effects.
Articles
,
Beat Breakdown
,
Beatmaking
,
Music Education
,
MusicStudy